Echium Wildpretii is a rare and majestic flowering plant that is native to the Canary Islands. This unique plant is known for its tall, spiky appearance and its vibrant reddish-pink flowers that bloom only once every ten years.
The Echium Wildpretii grows on the slopes of the Teide volcano, which is the highest mountain in Spain and the third highest volcano in the world. This location provides the perfect habitat for the plant, as it thrives in the harsh and arid conditions of the volcanic terrain.
The Echium Wildpretii is a biennial plant, which means that it has a two-year life cycle. In the first year, the plant produces a rosette of large, fuzzy leaves that can grow up to 60 centimeters in length. These leaves provide the plant with the energy it needs to produce its spectacular bloom in the second year.
In the second year of its life cycle, the Echium Wildpretii sends up a tall, spiky stem that can reach heights of up to three meters. At the top of the stem, the plant produces a cone-shaped inflorescence that is covered in hundreds of small reddish-pink flowers.
The bloom of the Echium Wildpretii is a truly magnificent sight to behold. The vibrant flowers stand out against the barren volcanic landscape, creating a stark and striking contrast. The bloom lasts for several weeks, and during this time, the mountain is alive with color and activity as bees and other pollinators flock to the flowers.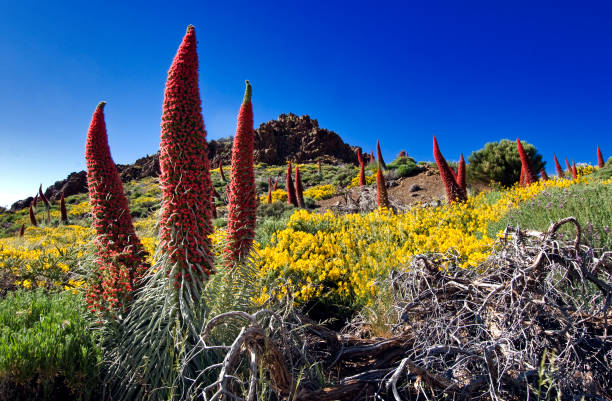 After the bloom has finished, the Echium Wildpretii dies, but its seeds remain in the soil, waiting for the next cycle to begin. This cycle ensures that the plant is able to survive and thrive in the harsh conditions of the Teide volcano, where few other plants can grow.
The Echium Wildpretii is a truly remarkable plant that is both beautiful and resilient. Its once-in-a-decade bloom is a rare and special event that draws visitors from all over the world to witness its beauty. For those lucky enough to see it, the bloom of the Echium Wildpretii is a breathtaking reminder of the power and majesty of nature.